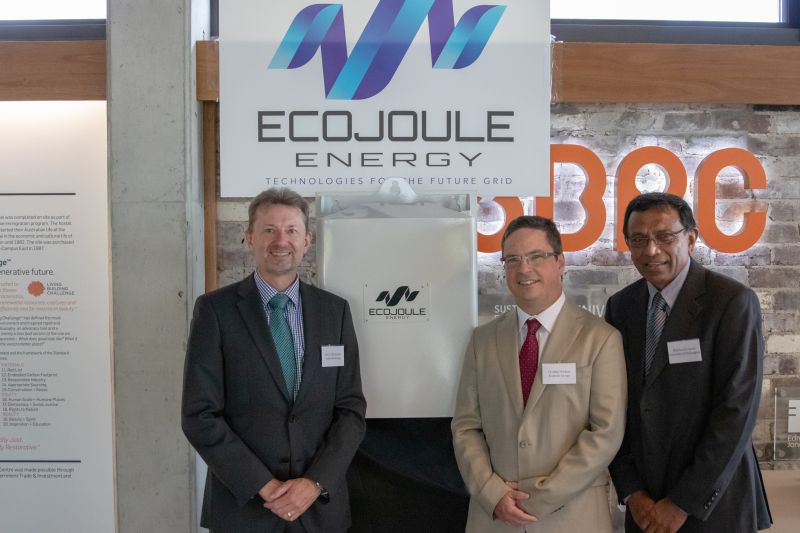 "A way to invest in the Network of the Future"
On Friday 1 March 2019, Dr. Mike Wishart, CEO of EcoJoule Energy, handed over the first production EcoVAR units to Endeavour Energy for trials in a pilot study and to the Australian Power Quality and Reliability Centre at the University of Wollongong for laboratory testing.
Mike Wishart and Tony Ferguson hosted 30-40 guests, including some high level individuals like Mark Johnson AO (Chairman of Alinta), Rod Howard (COO of Endeavour), senior Endeavour staff as well as local politicians and academics from the University of Wollongong.
We credit Endeavour Energy with showing leadership and vision in looking to the next generation of power generation. In an Australian first, Endeavour Energy will trial EcoVAR on power poles in April installing 20 units throughout the network in the Illawarra and Western Sydney.
Ty Christopher, the General Manager of Network Assets at Endeavour Energy accepted the handover of the first EcoVAR unit and he spoke enthusiastically about the opportunities that Endeavour Energy saw for the EcoVAR unit to assist in reducing the energy costs to its customers and serving customer needs in the most efficient way possible – not building more poles, more wires and putting more cable in the ground.
"This is something that's going to benefit all of our customers and this is something that we believe is going to be an important step in building the network of the future, one that meets our customers future needs …"
Ty Christopher, GM Network Assets, Endeavour Energy
Our guest of honour, Grant King, President of the Business Council of Australia and former CEO of Origin Energy was also tremendously supportive of the innovation of the EcoVAR units and the work we're undertaking at EcoJoule Energy.
"… the biggest and most complex machine in the world is all of those bits and pieces that go together to generate a reliable and hopefully affordable supply of energy."
"… we are still challenged in terms of energy policy, we are still challenged to make this machine work for us as a community and as consumers. And I think this is where the work of EcoJoule comes in and the incredible work that Mike Wishart has done."
"And I truly do believe this is where we need to focus and it's these sorts of people we need to rely on – that will ultimately bring this … this system, this machine, back into control and let it serve the people in the way it was intended – to provide reliable, affordable energy obviously on a more sustainable basis."
Grant King, President of the Business Council of Australia
We are delighted to share with you some highlights and media coverage from the event.
9 News Illawarra coverage:
Speech by Mr. Grant King: