Endeavour Energy has recently commissioned the first of several pole mounted network support batteries in time for the launch of Sydney Water's Urban Plunge pop-up swim site on Saturday November 26. The units have been installed in Andrew Campbell Reserve (William Lawson Dr, Prospect NSW) together with Solar Panels and three Electric Vehicle Chargers as a demonstration of low carbon and future leaning technology. The "EcoSTORE" network support batteries, developed by Australian manufacturer EcoJoule Energy, use innovative new technology to stabilise local grids and allow more clean solar energy exports. EcoJoule's EcoSTORETM battery storage systems have been developed for sites where there is a high penetration of rooftop solar, which is placing pressure on the local grid infrastructure.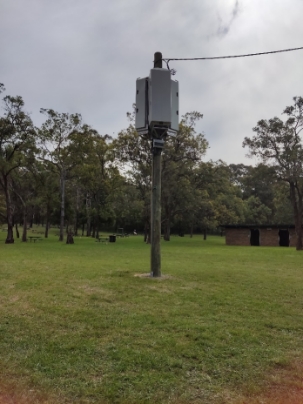 The EcoSTORE systems store excess solar energy during the day and make it available for use during peak periods in the evening. This effectively shifts the solar energy to the period of the day where it is most useful, maximising the value of the renewable energy and reducing the reliance on fossil fuel generated energy.  The EcoSTORE batteries also have strong in-built network support technology which can improve the voltage delivered to consumers as well as reduce phase unbalance which is often a major constraint on low voltage electricity networks.  This allows Endeavour Energy to avoid expensive network upgrades such as replacing poles, wires, and transformers. 
An advantage of the EcoSTOREs is that they have been designed to be easily installed on electricity poles.  The batteries don't take up space on footpaths, verges or in parks and operate quietly, resulting in substantial value to the local community. EcoJoule's pole mounted batteries are far more cost effective than individually owned household batteries since they benefit from scale and leverage off the diversity in customer loads given consumers draw their power at varying times.
Endeavour Energy's Power Quality and DER Integration Manager Albert Pors said, "We are excited to commence deploying low voltage network support batteries.  They provide Endeavour Energy the ability to improve power quality and solar hosting capacity for customers as well as reducing network peak demand, which can defer traditional network augmentation requirements."
EcoJoule Energy's Principal Engineer, David Courage, said the batteries offered multiple benefits. "The EcoSTORE community battery offers the opportunity to maximise the value of rooftop solar energy while at the same time relieving pressure off the electricity grid," he said. "Endeavour Energy is demonstrating its customer-focused leadership in the rapidly changing electricity industry, and we are proud to supply our Australian-designed, Australian-manufactured solutions to this project."